Swiss Time's: "TIME TO CARE" Charitable Sales Event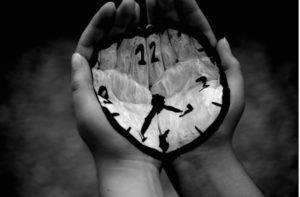 Join us this month, July 2017, in supporting the HOPE-JG Foundation based here in Windham, Maine.

Because Every Family With ALS Matters. The Hope-JG Foundation understands that when an individual is diagnosed with ALS or other forms of neurodegenerative disease, it effects the entire family.  That's why they exist — to offer hope to the afflicted and to those who care for them. Hope comes in many forms, some are practical and tangible and some are simply spirit lifting. The goal is to provide both through a state-of-the-art residence in New England.
Swiss Time's "Time to Care Sale" means that for the entire month of July:
*All Movado will be on Sale at 20% to 40% off.
*3% of ALL New Retail Sales will be donated to the HOPE-JG Foundation.

*Raffle Tickets for sale giving you a chance to win 1 of 3 watches (prizes featured below) 1 ticket for $5.00 or 5 tickets for $20.00; all proceeds will be donated to the HOPE-JG Foundation.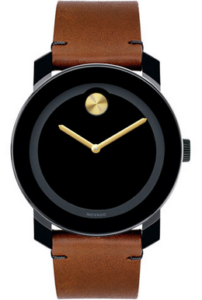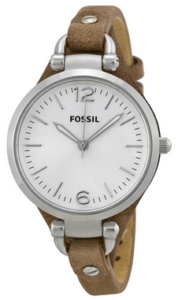 Come on down to buy yourself a raffle ticket and/or your new compass or watch today. Help us to continue to support yet another amazing Maine organization!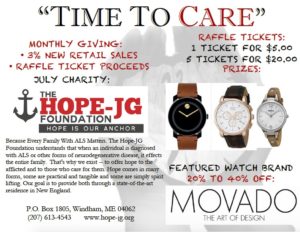 Hours: Monday though Friday 10-5; with alternating Saturday's 10-2; please visit our hours page for the most current business hours.