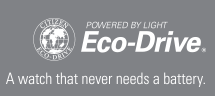 The Citizen Watch Co. Ltd was established in 1930 and is headquartered in Tokyo, Japan. To date, 293 million Citizen watches have been produced. The name of the watches, Citizen, was chosen to show a desire to produce excellent products for all citizens in the world. Citizen Watches remain at the forefront of new technology today with ground breaking innovations.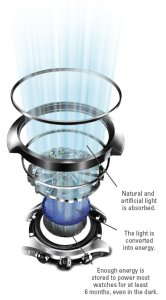 Citizen Watches strive to create harmony between man and machine. They were the first company to address the issue of metal allergy by selling watches made with titanium, and thus proving that titanium did not cause metal allergy. Citizen watches will maintain its beauty and luster for many years to come due to Duratect, a revolutionary technology which involves a special treatment on existing materials like stainless steel or titanium to harden the surface. The Eco-Drive watch, running solely on the power produced by light from any source is another great innovation from Citizen Watches. The secret of Eco-Drive lies in its reserve battery which contains no toxic elements, such as mercury, and acts as a reservoir to store the energy converted from light. When fully charged, most Eco-Drive Citizen watches can run six months, depending on its model. This exciting technology also demonstrates the commitment of Citizen Watches to the environment as well as to the consumer.
Citizen Watches are the leaders in innovative and revolutionary technology coupled with exciting styling for all citizens of the world, whether you are looking for a dress watch or the leading technology in sports watches. So confident in the reliability of its watches, Citizen warranties all timepieces for 5 years.
Looking for a specific model? Contact Us for more info.