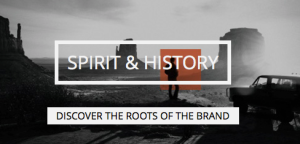 Hamilton Watch Company was founded in 1891 in Lancaster, Pennsylvania. In the early 1900s Hamilton set out to deliver accurate watches to the railroad community with their first series of pocket watches known as "The watch of Railroad accuracy" while gaining the prestigious rank of supplier to the US Armed Forces. In 1942 during World War II, Hamilton stopped production for consumers to concentrate on providing the US forces with the total of one million timepieces including the marine chronometers. 1957 brought around the world's first electric watch: the Ventrua, a revolutionary technology and design; while in 1970 Hamilton created the worlds first LED digital watch. Hamilton Watch Company transferred to a Swiss Company now known as Swatch Group. Today Hamilton is established as one of the leading brand in the world with a proven reputation for creating elegant, unique and reliable watches. Hamilton watches combine a strong American spirit with the unrivaled precision of the latest Swiss movements and technology.
The Hamilton Collection
Jazzmaster – Just like musical harmonies, the Hamilton Jazzmaster series contains outstanding variations on a theme combining innovations and modernity. Its classic elegance makes it very irresistible to watch lovers.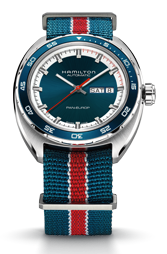 American Classic – The Timeless Classic series takes Hamilton back to its roots when Hamilton was chosen for its unrivaled reliability and style. Today, this series provides distinctive early American styling paired with the accuracy of modern Swiss movements.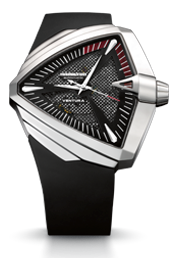 Ventura – The Ventura is a faithful tribute to the original 1957 model, which madewatch-making history as the world's first electrical, battery powered watch. Design detail of the case of the new model mirrors that of its ancestors.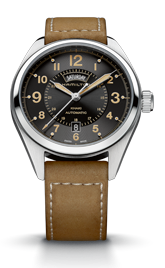 Khaki Field – The Khaki Field line provides rugged construction and elegant design. These watches portray the essence of original Hamilton military watches produced in the 1940s.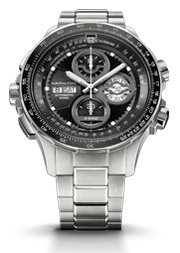 Khaki Aviation – The Khaki Aviation line is geared toward the skyward bound, providing classic aviator styling and/or functions specific to the needs of a pilot.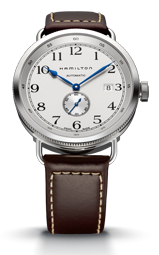 Khaki Navy – The Khaki Navy watches are perfectly equipped for their underwater travels. With their strong character, a screw-down crown, Superluminova indexes and high water resistances up to 1000 meters they are guaranteed to make waves – even on dry land.
Looking for a specific model? Contact Us for more info.